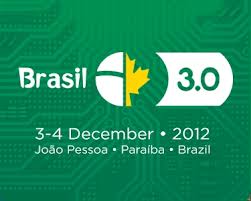 14 November 2013 - Vancouver, Canada - fSONA Networks has been selected by Brazil's Comitê Gestor da Internet (CGI) and the Canadian Digital Media Network, as one of ten companies representing Canada at the Brasil-Canada 3.0 conference from December 4th - 6th, 2013.
The program will include opportunities to meet with potential customers and investors from Brazil, as well as the ability to learn about the Brazilian market from companies with experience in country. The Canadian and Brazilian companies will also take part in a pitch-off competition on December 3rd, with OpenText sponsoring the winning company's attendance at the Canada 3.0 conference, taking place in Calgary May 26th - 28th, 2014.
"This is a great opportunity for fSONA to enter the Brazilian market" said Kevin Tuer, Managing Director of the Canadian Digital Media Network, "Brazil is the seventh largest domestic IT market in the world, and as the host of the upcoming World Cup and 2016 Olympics there will be even greater opportunities going forward."
Ricardo Sordre, CEO of the Brazilian accelerator Project-1, added "Many large Brazilian companies are in need of technologies that are not available in country, and Canadian companies can help fill that need in the fast-growth, high demand Brazilian market."
"fSONA sees great potential to partner with companies in Brazil," stated Andrew Grieve, President & CEO of fSONA. "Our optical wireless products are ideal for growing service providers that want to deliver next generation services such as 4G/LTE mobile wireless and high capacity broadband."
6Harmonics, Busbud, ESL Explorer, Linquet, Magnet Forensics, Turnstyle, PO-MO, Xomo Digital and Zighra are the other companies chosen out of 164 applicants by a panel consisting of Ricardo Sodre (Project 1), Kevin Tuer (CDMN) and Sid Paquette, the Director of OMERS Ventures. The diverse group comes from across the country, and includes the retail, wireless, security, education and tourism sectors. The companies selected are high growth SMEs, with average revenue of $1.3 million that is projected to increase markedly over the next year through international expansion.
About fSONA
fSONA Networks is an innovative provider of next generation optical wireless (also known as Free Space Optics, or FSO) solutions that utilise a flexible point-to-point architecture and protocol transparent design. Founded in 1997 with a goal to develop premier, low-cost, eye-safe, optical transmission products for the broadband access market, fSONA has created the toughest, most powerful free space optics systems ever brought to market - the SONAbeam® family.
For more information about fSONA, SONAbeam or Free-Space Optical Wireless, please contact:
phone: 604-273-6333
email: media@fsona.com
fSONA and SONAbeam are registered trademarks of fSONA Networks. All other trademarks may be properties of their respective companies.